Paul Cole DVSA Approved Driving Instructor. 
Paul is also the I.O.W Driving Academy's proprietor. He is a Grade 6 Instructor. What this means is that Paul has qualified within the top 6% of UK Driving Instructors. It's classed as an accolade within the Industry.
Paul is also an Advanced Driver and Driver Trainer and a qualified QCF Assessor so is able to deliver the Level 2 B-TEC Qualification – Demonstrate Safe Driving.
Paul qualified in 2007 so has been teaching for over 10 years. Year on year Paul achieves an average of between 40 – 45 student passes annually. This is one of the highest pass rates for any instructor on the Island.
A little about your Instructor…
" outside of work, my passion is motorbikes and motorbike racing. I follow the Moto GP religiously and there is just one rider…. Valentino Rossi VR46. Cannot wait til the new season and the Silverstone round. I will be there!
 I am the proud owner of a Ducati 1098s Tricolore. I take it to Silverstone for track days as much as I can but usually end up working crazy hours through the summer. Look forward to meeting the new students for 2018″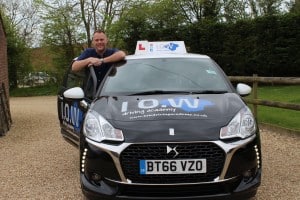 Nick Mount DVSA Approved Driving Instructor.
Nick became a fully qualified Instructor in 2006 and joined the I.O.W Driving Academy in 2015. He is a very experienced and highly qualified Instructor.
Prior to coming to the I.O.W, Nick was a senior Instructor in Bournemouth and training other Instructors to pass their qualifying exams.
We are very proud to have him on our team and he has proven to achieve the highest of standards with great test passes here on the Island.